"I'm planning a conference and our speaker has requested to have no flash photography during their presentation. Will the photos be okay?"
We are asked this question so often. And, we always want to create the best possible photos in the least disruptive way. Just like you, we want your attendees to remain focused on the main event. We agree – there is nothing worse than the photographer who stands two feet in front of you blasting a flash like a disco dance strobe directly into your eyes while you're announcing your thoughtful and exciting plans for the next fiscal year. All of a sudden, the whole situation feels distracting, rude, and unprofessional.
The good news is this: We never do that. It's not our style, and it never will be.
However, there are some situations when non-intrusive flash can be useful. If you are wondering, "Do I need flash photography for my speaker?" here's a list of questions to consider when planning your event: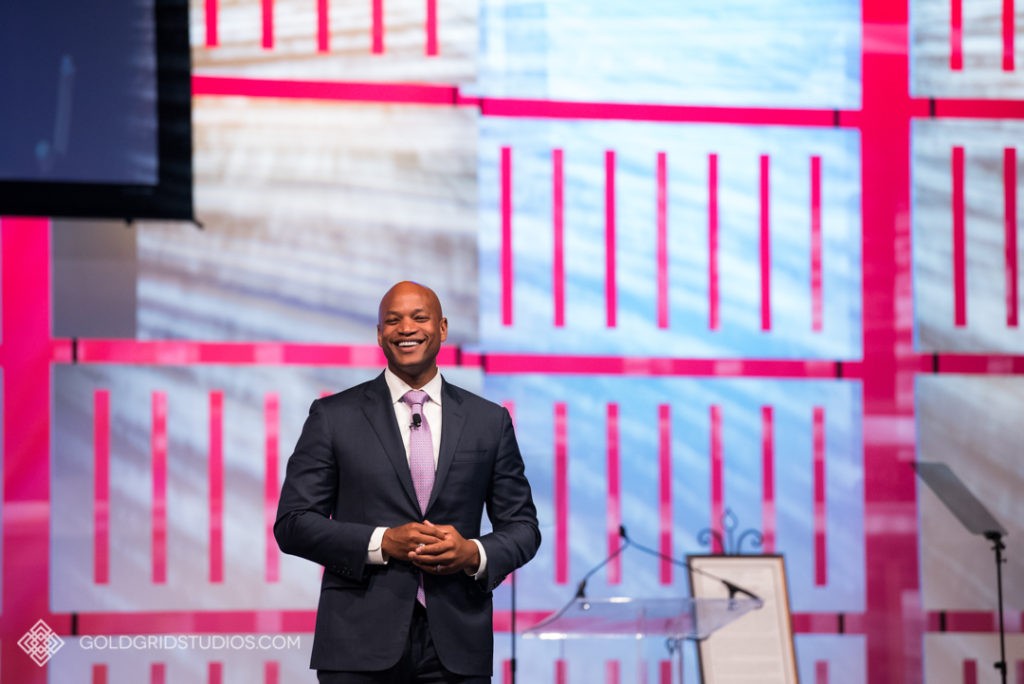 Is my Speaker presenting during the day in a venue with a lot of natural window light?
If your venue has rows of windows on the side (note: NOT behind the speaker), and/or your event is happening in the middle of the day, we can probably rock it out with available light.
That said, are you sure it's ENOUGH light?
Consider this: Does the room feel bright enough even before turning on those typical overhead, fluorescent lights? As a guest, would you be able to see the presenter without any of those lights on? Then, no flash needed. Even in a brightly lit room with windows during the day, there are still some variables that might make you want to consider having flash. So, be sure to read on:
None of us want to accentuate the lack of sleep under our eyes… which very well might LOOK the case with overhead lights!
Overhead lights are common, but definitely aren't the most flattering. Flash photography at your event can help minimize those harsh shadows.
My speaker is in a bright room, but has a slideshow presentation.
Even if you're in the brightest warehouse space in Chicago, if the speaker is giving a presentation with slides, you probably want to curtain the windows so attendees can see the information. If you want the slides to be legible in photos (especially when they are the brightest thing in the room), flash for can help.
Is my Speaker presenting while standing right in front of a window?
Without any flash photography, your speaker will be silhouetted and dark against the window light behind them. It will be difficult to see the expression on their face, let alone their identity. We highly recommend flash in this scenario.
Is my Speaker presenting in a windowless conference room or convention center room? Do I need flash photography for my speaker if this is the case?
If yes, then there are definitely other variables to consider. The vast majority of our events take place in these kind of environments – hotels, convention centers, historic venues with a touch of stained glass. Each space has a different set-up, and your event planning team is probably already asking specific questions related to the overall level of technical production and impact you want your event to have.
Are there stage lights that come with the venue for the presentation?
If yes, it ultimately comes down to the amount of light and direction of light from the available stage lights. Sometimes, available stage lighting provided by the venue can work well to highlight your Speaker, but in other cases, the lighting may not look the best in photos. In some theatre venues in Chicago, the lighting works wonderfully for a stage performance or off-the-cuff improv show, but does not have the level of professionalism you may want for your CEO.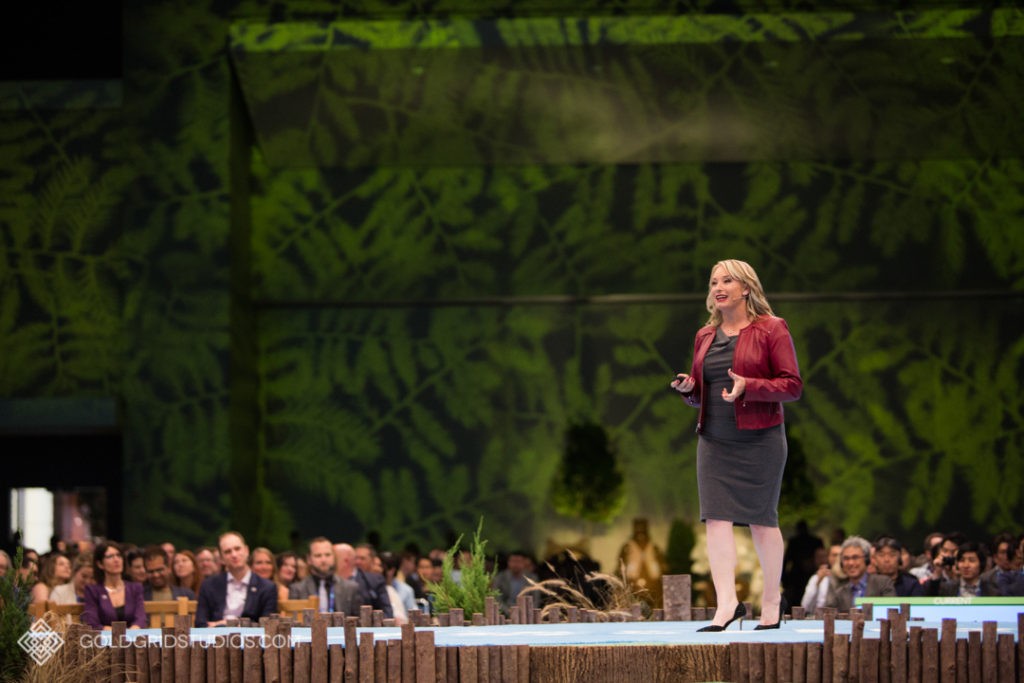 If you want to talk through the best options for lighting, send us an email!
Did my team hire a lighting crew to install stage lights specifically tailored for the presentation?
If you're bringing in a pro-team (like Frost Lighting in Chicago) to install lighting for your presenter's stage, specifically tailored to your brand, odds are they've got it covered. But sometimes, spot lights are too small and don't always cover the stage.
That said, here's one thing you want to make sure of: Ask your lighting team to create an even flood of light across the stage. If your speaker wanders while they talk, you want them to be well-lit regardless of where they stand.
Additionally, we have one more note on stage lighting. Ask about the color of light. This is definitely a factor we can discuss with you! Overly cool or overly warm colored lights might work for stage illumination, but are not always ideal in photographs.
If we use flash, it will be minimal, or used to simply highlight a few of the seated guests as they engage with each other and the presenter. Which brings us to the last question:
Do I want photos of attendees while they are listening to the speaker or getting into break-out sessions?
Most likely, your guests are sitting in the darkest part of the room. You've beautifully lit the stage for your speaker and naturally, the rest of the room is dark. If you'd like photos of your attendees, flash can help! And it won't blind them.
Okay, so it sounds like I might want to consider talking to my speaker about incorporating flash photography. What kind of experience can I expect from Gold Grid Studios?
Generally, we place our flashes out of the way of attendees and the speaker, raised up high and nowhere near eye-level, in the back or sides of the room. We use flash in a non-direct way that won't blind your speaker, and won't call attention to itself.
In most scenarios that are not equipped with professional stage lighting tailored to your event, we do recommend considering flash. We want to make photos that you'll feel excited to share on social media, on your next company-wide email, and on your website! We take pride in our craft. And, we know that you want your public-facing imagery to show the pride you take in yours.
We know this might all sound like a LOT of variables to consider. Don't hesitate to contact us! We are happy to talk through all of the possible variables with you. We've photographed inside of countless event spaces in Chicago over the years, and have become familiar with the lighting solutions that work best in any scenario. Our goal? For you to receive the best possible photos for your event.
Reach out to us if you have any questions, and we'll get to them in a flash! (Yep, we went there…)