How to prepare for your headshots: Well, you've put it off for months (maybe years?) and now it's finally time to refresh your headshot. Whether you are starting your own business, transitioning to a new position, or just updating your LinkedIn, your headshot is often your first impression. The most common question we get asked is "What do I wear?" You always want to look your best, and sometimes certain clothing styles photograph better than others.
That's why we've put together this list of helpful tips so you can work on your next interview, not fret about your headshot. Obviously, different industries have different expectations, but if you're looking to play it safe and professional, these 10 Tips outlining how to prepare for your headshot won't fail you! 

Tip 1: Pick the outfit that makes you feel incredibly confident. We all have one. It's that dress or blazer that has you checking yourself out in the window reflection as you walk to your next sales meeting. Whatever that outfit is, choose that! "But how formal should it be?" is the follow up question everyone asks the most. Our rule of thumb: Wear whatever it is you would choose for a first new client meeting. I.e. If you don't show up to meetings in a tie, then skip the tie. If you always have your glasses on, keep 'em on!

Tip 2: Keep it fitted. Loose or ill-fitting clothing will add unnecessary extra weight when viewed in a photo. We aren't suggesting skin tight clothing, but something with structure and that fits in all the right places is a must.

Tip 3: If you're not sure what color looks best on you, neutrals will always stay classic and keep a headshot looking timeless. When you're considering how to prepare for your headshots, you can never go wrong with blues and grays are our favorite suggestion for not being quite as heavy as all black.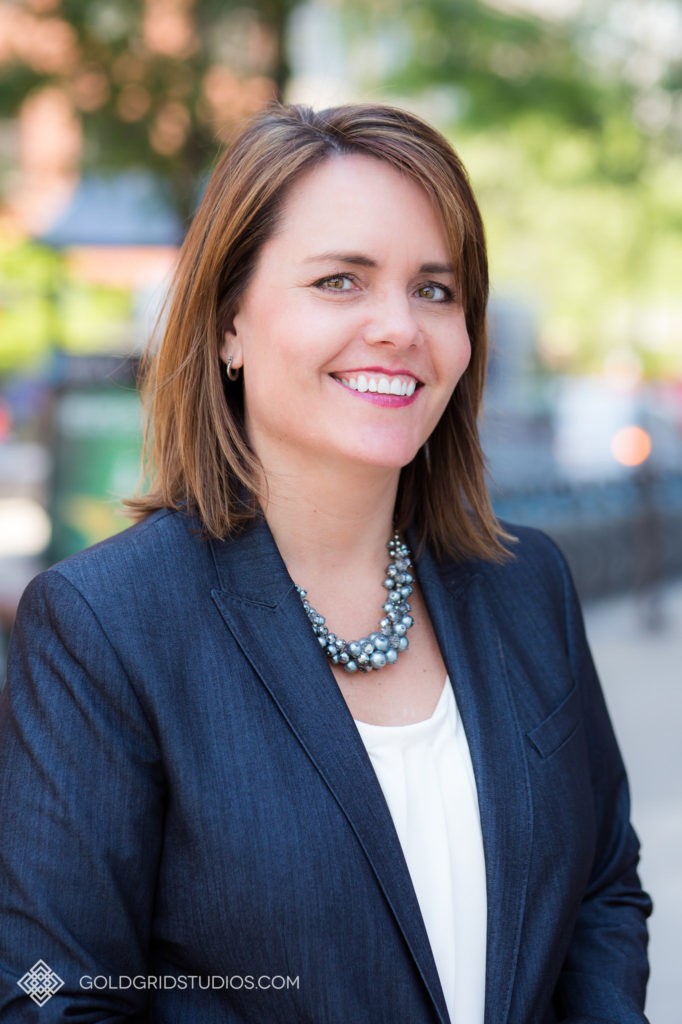 Tip 4: Play it safe with solids. Some patterns can work, but loud, bold stripes or big floral patterns will distract from what the main focus should be – You! Bringing in patterns in a great tie or pocket square for the gents or more of your personality with statement jewelry for the ladies is a great way to keep the solid shirts from getting boring.

Tip 5: Cover your arms and shoulders. Seriously, anything without sleeves loses that put-together sense of professionalism. And, you definitely don't want any arm insecurities getting between you and the camera.

Tip 6: Bring options and layers to try out several looks! Something as simple as taking a blazer on or off can give you two different looks quickly. For example, scarves, ties, necklaces and pocket squares are all simple items to toss in your bag. Plus, you can switch out for different looks as a great way to bring in more color if you are sticking with the neutral top.
Tip 7: Dress professionally from head-to-toe. Even if you only need a LinkedIn photo that shows from the waist up, dress like you would for the interview. Dressing up your shoes will automatically improve your posture. The total look also boosts your confidence – you should want to own your outfit long after the headshot is over and rake in those compliments when you wear it to work.

Tip 8: Makeup: A little goes a long way. Just because you'll be on camera for your headshot doesn't mean you should cake it on like you did for your 8th grade musical. What's most important here is definition not quantity. Even if you don't wear eyeliner on a daily basis, simple eye liner and a great mascara will help define your eyes beautifully in photos. We get asked about makeup all the time. So, we had to include it in our list of how to prepare for your headshots!
Tip 9: Hair: Keep it simple and professional. Definitely pack a brush or comb if you like driving with the windows down… For the ladies, consider a quick stop at your local blow out bar for that added touch of confidence.

Tip 10: Practice! Try out your wardrobe combinations in front of a mirror. Solicit your trusted friends or significant other for their opinions. Or even feel free to email us over some quick cell phone snaps! Importantly, you should feel confident in whatever you are wearing. The best advice we can give when it comes to how to prepare for your headshots is this: Confidence is what makes all the difference in photos! 
If you're looking to book your next headshot, let us know! We are happy to answer all your questions leading up to your headshot, and talk about the best background and environment to pair with your super pro look.