It's the new year and everyone is finally back at the office! Q1 might take a little bit more time to get back into the swing of things, but also might just be the perfect time to show your appreciation for your team. The good news? Figuring out how to spoil your team in Q1 doesn't have to be difficult. And, the return on investment is simple: people who feel appreciated value their work. This is a win-win in sooo many ways.
In fact, according to a recent report (2010, Robert Half International) cited by Business Insider Magazine, we know employee appreciation is a heckofa* positive thing (*our word, not theirs). Over 50% of managers and HR reps believe that employee appreciation is a HUGE opportunity to improve morale, productivity, loyalty, and innovation in their company.
So, how do you achieve this? We have a few ideas on how to spoil your team in Q1… with photographs to prove it!
Spoil Your Team with Intimate Lunch Meetings in Unique Spaces
We are putting this one first on the list simply because it is one of our favorites. For smaller teams or departments, finding a space that inspires can TOTALLY alter the tone of the first meeting of Q1. From hosting a lunch at The Lyric Opera to dining in a small conference room with a view in Downtown Chicago, we've seen how innovative spaces can completely alter the mood of a meeting. There aren't a ton of people to coordinate or account for, which allows a myriad of flexibility. This applies to the intimate design, floral, or even personal mini champagne bottles you might coordinate for your event! Your team will feel pampered. You'll feel accomplished. And, the camaraderie of being together (and feeling a tiny bit epic about it) goes a long way.

Plan a Company Off-Site (with memorable activities…)
If the majority of your team works 9-5 at a desk, one of the best things you can do to spoil them is taking them away from the normal routine! In fact, hosting a day-long outing at Whirlyball, Top Golf, or even a dedicated Ping Pong bar like SPIN in Chicago is a great way to get your team engaged. Added bonus: If you hire a photographer, you'll be able to look back and laugh at all the memories from your outing… and then pick your favorites for your social media narrative!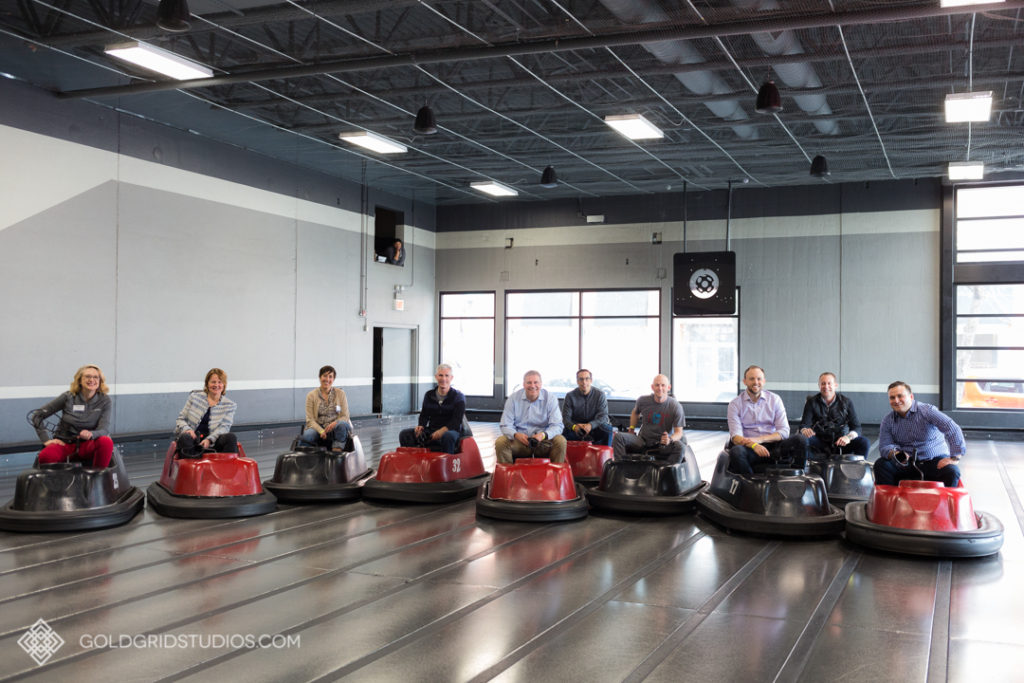 Spoil Your Team with Massages
Don't even question this one – we've actually taken headshots at a conference for attendees who had a massage upstairs just an hour prior, and everyone was SO relaxed! (Not to mention, they still had their best professional look on!) Working a job in any industry almost BY DEFINITION causes some level of stress, and massages help to assuage the tension almost instantly. Spoil your team by planning to hire massage experts for your next conference, or bring their expertise directly into your office! Obviously, pick a day without client meetings, or else plan to offer massages to your clients as well… it will be too luxurious an opportunity to pass up!
Give Your Team VIP Access
This is probably one of the most direct ways to make your team feel extra important. Whether spoiling your team with tickets to a sporting event, access to a unique Chicago museum, or even a private concert, VIP access makes one feel… well… like a Very Important Person!

Time for New Headshots
Speaking of win-win ways of how to spoil your team in Q1, you should schedule new headshots! While headshots might feel like another necessary procedure, employees will appreciate the opportunity to have a new, professional photo on the website alongside an updated list of their accomplishments in the new year. If you're worried it might be a lot to coordinate, just send your team our Gold Grid guide for How to Prepare for Your Headshots! Let your photographer (or us) do the rest.
Still trying to figure out your strategy for how to spoil your team in Q1? Reach out to us and we will be happy to share additional expertise! Plus, we can give some pretty great reasons why you might consider hiring a photographer at your Q1 events.